Star Revenge 8: Scepter of Hope is a ROM Hack made by BroDute and is the final part in the Star Revenge series.
This hack is organized very differently from others, as it uses both an overworld hub and connected levels. Another unusual thing is the use of badges and caps in addition to the standard keys and stars to restrict levels. The badges, caps and keys are guarded by six bosses. Fortunately the hack comes with a map to make the worlds easier to navigate (see below).
Coins is this hack are replaced by cards, which act exactly the same.
There are a lot of Touhou references in this hack, including characters, pixel art and almost all of the music. BroDute even says that you can call it "Super Touhou 64".
Plot
BroDute and Timerock bring Mario back from death so he can collect stars which they will use to re-power the Scepter and remake the Earth. At the end of the game Mario must decide if BroDute or Timerock will get the power of the Scepter to recreate Earth... although there is also a secret third ending.
Map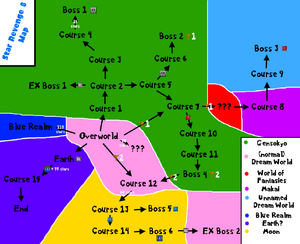 Levels
Name
Stars
Stars/Items Required
Notes
Coins
Overworld
1
0
To... Earth?
Contains the Warp Block Switch. The section with the star requires the Ultra Badge and 75 stars. Password to Warp Block Switch is BFCEAB
Springpath Valley
7
178
Sanzu River Fields
219
Scarlet Devil Mansion
2
Warp Block
Located in Sanzu River Fields
Abandoned Graveyard
7
0
The Star 5 Required 30 Stars to collect.
163
Magma Cavern of Iseki
!-box replaces 100 coin star, The Star 5 Required 70 Stars to collect, 70 Star Door Required 3 stars to open this door, You Cannot Skip 70 Star Door.
The Great Mausoleum
3
15
Contains the Super Badge. Entrance in Magma Cavern of Iseki. Boss 1.
Forest of Magic
7
0
216
Bamboo Forest
Super Badge
190
Eientei?
1
First Key Stage. Located in Bamboo Forest. Boss 2.
Hakurei Bridges
7
0
227
World of Fantasies
0
Key 1
Path between Hakurei Bridges and Makai Fields.
Makai Fields
7
197
Unnamed Dream World
154
Bullgetsu's Arena
1
Contains the Wing Cap Switch. Located in

Unnamed Dream World. Boss 3.

Skyhigh Ruins
7
Wing Cap
214
Shining Needle Castle
134
Youkai Mountain
2
Second Key Stage. Boss 4.
SMB2 W1-1
1
50 + Key 1
Dreamy Space Tunnel
7
Key 2
164
Clownish Moon Surface
60 + Key 2
196
The Moon Trinals (Clownwiggler's Star Arena)
1
60 + Key 2
Vanish Cap Stage. Boss 5.
Sea of Tranquility
7
Vanish Cap
191
The Moon Trinals (Junko's Lunar Lake Garden)
2
Contains the Ultra Badge. Boss 6.
Secret Space Tunnel
Warp Block
Located in Junko's Lunar Lake Garden
Scriosadh Battles
5
75 + Ultra Badge
Blue Realm
1
110
Secret Stars
0
80 + Ultra Badge
Ending Zones
Music
Used in
Song
File Select
Undertale - Megalovania (1.0 - 1.2b)

Touhou 12.5: Double Spoiler - Youkai Modern Colony (1.3+)

Star Select
Undertale - Nyeh Heh Heh! (1.0 - 1.2b)

Touhou 10: Mountain of Faith - Dark Side of Fate (Arrangement Remix) (1.3+)

Overworld
Silent Sinner in Blue - Youkai Space Travel
To... Earth?
Touhou 12: Undefined Fantastic Object - Fires of Hokkai
Springpath Valley
Touhou 12: Undefined Fantastic Object - At the End of Spring
Sanzu River Fields
Touhou 9: Phantasmagoria of Flower View - Komachi's Theme - Higan Retour ~ Riverside View
Scarlet Devil Mansion (First Section)
Touhou 6: Embodiment of Scarlet Devil - Voile, the Magic Library
Scarlet Devil Mansion (Second Section)
Touhou 6: Embodiment of Scarlet Devil - The Centennial Festival for Magical Girls
Abandoned Graveyard
Touhou 13: Ten Desires - Let's Live in a Lovely Cemetery
Magma Cavern of Iseki
Touhou 13: Ten Desires - Desire Drive
The Great Mausoleum (First Section)
Touhou 13: Ten Desires - The Dream Palace Great Mausoleum
The Great Mausoleum (Second Section)
Touhou 13: Ten Desires - Shoutoku Legend ~ True Administrator
Forest of Magic
Touhou 2: Story of Eastern Wonderland - Forest of Tohno
Bamboo Forest
Touhou 14: Double Dealing Character - Bamboo Forest of the Full Moon
Bamboo Forest (Spider Cave)
Undertale - Spider Dance
Eientei?
Touhou 8: Imperishable Night - Voyage 1969
Eientei? Boss Fight
Touhou 8: Imperishable Night - Flight of the Bamboo Cutter ~ Lunatic Princess
Hakurei Bridges
Touhou 15: Legacy of Lunatic Kingdom - Unforgettable, the Nostalgic Greenery
World of Fantasies
Touhou 2: Story of Eastern Wonderland - World of Empty Dreams
Makai Fields
Touhou 5: Mystic Square - Romantic Children
Unnamed Dream World
Touhou 4: Lotus Land Story - The Inevitably Forbidden Game
Bullgetsu's Arena
Touhou 4: Lotus Land Story - Cute Devil ~ Innocence
Skyhigh Ruins
Touhou 12: Undefined Fantastic Object - Sky Ruin
Shining Needle Castle
Touhou 14: Double Dealing Character - The Shining Needle Castle Sinking in the Air
Youkai Mountain
Touhou 10: Mountain of Faith - The Gensokyo The Gods Loved
SMB2 W1-1
SMB2 - Overworld
Dreamy Space Tunnel
Touhou 15: Legacy of Lunatic Kingdom - The Mysterious Shrine Maiden Flying Through Space
Clownish Moon Surface
Touhou 15: Legacy of Lunatic Kingdom - Faraway Voyage of 380 000 Kilometers
The Moon Trinals (Clownwiggler's Star Arena)
Touhou 15: Legacy of Lunatic Kingdom - Pierrot of the Star-Spangled Banner
Sea of Tranquility
Touhou 15: Legacy of Lunatic Kingdom - The Sea Where One's Home Planet Reflects
The Moon Trinals (Junko's Lunar Lake Garden)
Touhou 15: Legacy of Lunatic Kingdom - Pure Furies ~ Whereabouts of the Heart
Secret Space Tunnel
Touhou 15: Legacy of Lunatic Kingdom - A World of Nightmares Never Seen Before
Secret Space Tunnel (Hecrocktia Fight)
Touhou 15: Legacy of Lunatic Kingdom - Pandemonic Planet
Blue Realm
Touhou 5: Mystic Square - Infinite Being
Scriosadh Battles
Touhou 12: Undefined Fantastic Object - Emotional Skyscraper ~ Cosmic Mind
Wing Cap
Celine Dion - My Heart Will Go On
Metal Cap
John Cena - The Time Is Now
Vanish Cap
Nyan Cat
Koopa Race
Touhou 14: Double Dealing Character - Kobito of the Shining Needle ~ Little Princess
Shining Needle Castle Boss
Touhou 14: Double Dealing Character - Reverse Ideology
Star Catch Jingle
Touhou 3: Phantasmagoria of Dimensional Dream - Reincarnation
High Score
Touhou 3: Phantasmagoria of Dimensional Dream - Vanishing Dream ~ Lost Dream